GERRY- People from across the nation and Scandinavian immigrants could be found at the 13th annual Scandinavian Folk Festival in Gerry on Friday.
Swedish dancers performed on the stage and singers sung ballads from the Scandinavian Peninsula. Vendors sold authentic Scandinavian food and merchandise, and speakers gave history lectures on the first day of the weekend-long festival.
VENDORS
Article Photos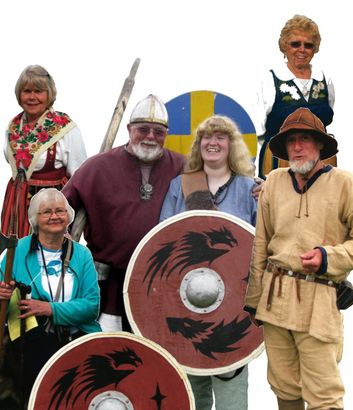 Pictured, from left, are Gerd Brigiotta, Thule Folk Dancer; Barbro Smith of Jamestown; Dave Segermark, captain of the Leif Ericson Viking Ship; Allison Berg of Busti sporting a homemade shield maiden costume; Donna Johnson, Thule Folk Dancer; and Steven Clark, a sailor aboard the Leif Ericson.
P-J photos by
Mallory Diefenbach
A variety of vendors sold wares relating to their heritage. Christina Saarinen, a Buffalo business woman who owns Back Home Books, started importing literature from Finland after she returned to the United States. Saarinen lived in Finland for six years, where she married a Finnish man and had a son, who is now 3 years old.
"After having to work really hard to learn to speak some Finnish, I was so concerned coming back to the U.S. that I said, 'You need to read and speak Finnish.' I want my son to speak Finnish, too," she said. "So, having access to those Finnish books was really important to me. So when I realized they weren't really available in the U.S., I hatched a way to get them."
Saarinen enjoys the colorful and cheerful nature of Finnish books, showing The Post-Journal the bright pages of the Moomin books. Moomin, while not well-known in the United States, is incredibly popular in Europe and Japan. And in Moomin - and other Finnish books - nature remains a constant theme due to the Finnish connection with it.
Back Home Books operates completely online outside of the festival, and draws in customers from across the United States and Canada. The most popular books tend to be ones teaching people how to speak Finnish, although so far at the festival, cookbooks and children's books seem to be the favorite. To gain more attention, Saarinen travels to different Scandinavian festivals.
To order books from Saarinen, visit www.backhomebooks.net. For any questions, call 262-8582 or email christina@backhomebooks.net.
A couple from Ohio traveled up to Jamestown to sell Scandinavian imports and handcrafts from their store, Finnish Treasures. Laura and Veikko Malkamaki, owners of Finnish Treasures, opened their store in Fairport Harbor, Ohio, nine years ago.
"I love Scandinavian designs so much," said Mrs. Malkamaki. "That's why I think I had interest in opening the shop."
Malkamaki grew up in Finland, and Mrs. Malkamaki said her Finnish heritage always played a big part in her identity. She spoke fondly of the Finnish museum her husband built in Fairport Harbor, Ohio. She spoke highly as well of the Scandinavian Festival in Gerry, calling it "fantastic."
Finnish Treasures sells glassware, ceramics, linens, knives, jewelry, handcrafts, wall hangings, rugs, sauna items, iittala Toikka birds, books, specialty foods and more at their two locations in Ohio and Florida. For any questions, call 440-478-5485 or email FinnishTreasures@roadrunner.com.
HERITAGE
The Scandinavian Folk Festival showed a great deal of authentic Scandinavian costumes from Sweden and Norway. Sonja Fransson Pascatore, owner of Mormor's Attic, said costumes varied greatly across Scandinavia. Specific to an area called a parish about 7 miles wide, these clothes showed the social status of the people who wore them. Made out of the resources available to them, common materials were wool, linen and leather. An interesting note to make is unlike today, black was worn for happy occasions and white could be found at funerals.
Jewelry called "solje" - was also popular at that time and could only be made out of silver. Popular belief dictated silver could ward away evil spirits. A rich person could have several pieces of jewelry while a poor person would have none, further establishing the social structure.
However, the traditional Scandinavian clothes weren't the only costumes found at the festival. Allison Berg, of Busti, created her own shield maiden, a female warrior, costume. Berg estimated the costume took a week of solid work, although she worked on it off and on since January, finishing it earlier this week. Made out of horse leather, linen and wool, the shield maiden costume came out of Berg's interest in her genealogy.
"There is so much. I have 3,000 people in the tree traced back 40-plus generations. There is a lot of royalty in there, but there is a lot of questionable people," she said. "People that were starved to death in dungeons and burned their wives at the stake. Things like that."
Unlike other royal families, Berg said her family didn't have a dynasty. Although, they did partake in the common practice of intermarriage. A problem also came from the Scandinavian naming, where their last name came from their father, which is where names like "Carlson" or "Johnson" came from.
"Everyone has a different last name," she said. "So, it's hard to follow the lineage."
Berg said the most interesting thing she found in her ancestry hunt was she was supposedly related to a lot of Scandinavian heroes. However, she also noted a lot of it was legend and it was hard to separate the story from the facts.
SATURDAY AND SUNDAY EVENTS
The festivities will continue today from 10 a.m. to 10 p.m. and Sunday from 10 a.m. to 4 p.m. The traditional Midsummer celebration will begin at 11 a.m. today. Starting at 1 p.m. today, lectures will cover a variety of topics from genealogy to folk costumes to learning how to speak Swedish until 8 p.m. On Sunday, lectures will start at noon with "Good Old Swedish Meat Markets in Jamestown" and continue until 4 p.m. Of course the Leif Ericson Viking Ship and Viking Village will be open throughout the fair.
For a full list of events and their hours, visit www.scandinavianjamestown.org.